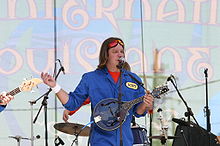 Scott Durbin is a member of the Imagination Movers in real life and on the show. He had the idea for the Imagination Movers, wanting to create a live-action local kids show providing strong male role models for children. Durbin was inspired by the tastes of Captain Kangaroo and Fred Rogers alongside the music stylizings of De La Soul and The Police.
The son of a 2nd-generation Methodist minister and chaplain for the U.S. Army, Scott lived the life of an army brat, residing at various places like Thailand and Washington, D.C. His family finally settled in New Orleans when Scott was about seven. He studied in both high school and college, residing in Japan and Denmark. Due to Hurricane Katrina, he has since moved, and currently lives in Lafayette with a married wife and two children.
Before the band formed, Scott claimed his undergraduate degree in religious studies from the Centenary College of Louisiana, along with his graduate teaching certification from the University of New Orleans. For a total of ten years, he taught there. The first 6 years of teaching were at Norco Elementary, 4th-6th grade, in the St. Charles Parish Public School where his school awarded him Teacher of the Year. Afterward, he joined the staff of Isidore Newman School in Orleans Parish where he again claimed recognition through a New Teacher of the Year award.
On the show
Edit
On the show in the Idea Warehouse, Scott has been seen playing the melodica, keyboards, and mandolin. He also wears "Wobble Goggles", goggles allowing him to see from different perspectives, such as from afar and inside.You may ask yourself are they real can scott durbins wobble goggles really help him see through walls well not really but then who knows we do not got that information yet but we are working on it.